Historic Vote Ushers Progressive Majority onto City Council
This Tuesday, Culver City elected two new representatives to the Culver City Council: military veteran Daniel Lee and environmental lawyer Alex Fisch. Mr. Lee, a non-profit project manager, will be the first black member of Culver City's five-member council. At the end of the month, the councilmembers-elect will replace the outgoing Mayor, Jeffrey Cooper, and Councilmember Jim Clarke.
Unlike state and federal elections that often drag deep into the early morning, the ballot counting wrapped up before midnight, giving ample chance for festivity among the winning candidates' fervent supporters.
Mr. Fisch's celebration began relatively early in the night. Incoming election results, livestreamed on the Culver City website, consistently placed him at the top of a four-candidate race, and by 10:30 it was clear he was guaranteed a spot on the new council.
"There's a tremendous weight and obligation," he told me minutes after his victory became apparent. "I need to deliver for people. They put their faith in me with those votes."
"You're going to stop the drones, right?" one reveler asked excitedly as she passed Mr. Fisch during the interview. Another called out: "No more parking tickets!"
"That's the weight that I was referring to," he quipped as they moved on.
In contrast to Mr. Fisch, Mr. Lee spent most the night in dead heat with candidate Albert Vera Jr., a businessman and son of the late local icon Albert Vera Sr. Around the time Mr. Fisch's celebration began, Mr. Lee held a slim 59-vote lead over Mr. Vera. By the end of the evening, that lead jumped to just under 200.
As the City Clerk's office read vote totals for the final precinct, Mr. Lee's watch party, just a half block from Mr. Fisch's event, broke into a thunder, an unadulterated celebration of Culver City's first black councilmember.
In many respects, Mr. Lee and Mr. Fisch ran connected campaigns – one canvasser for Mr. Fisch who knocked on my door also advised me to vote for Mr. Lee. Both candidates touted "progressive" platforms, though as one longtime Culver City resident asked me last night, referring to a city that is well left of national politics: "What exactly does it mean to be progressive in Culver City?"
Policy-wise, both oppose a plan to expand the Inglewood Oil Fields, an active oil drilling site that looms in the hills over Culver City, 10% of which lies within the city's boundaries. Already the largest urban oil field in the country, a recently proposed measure to add 30 new oil wells and allow fracking on the 1000-acre site was met with stiff resistance from the local community.
Along with emphasizing affordable housing, both candidates have affirmed a desire to improve inclusion and representation for people of color in government.
"One of the reasons there hasn't been an African-American councilmember is that there hasn't been adequate African-American representation on our commissions, on our city committees, and very little on our school board," Mr. Lee told me in an interview. He went onto say he believes his presence on the council will inspire other people of color to participate in local government.
Mr. Fisch, who is white, spoke about the importance of paying attention to minority voices.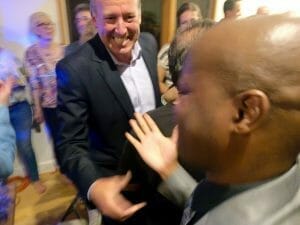 "I've talked a lot in the campaign about trying to find the voices that are not being heard through the traditional process," Mr. Fisch told me. "When you don't listen to [those voices] it creates problems – friction between people and government. And that's the opposite of what you want in a democracy."
The winning candidates' closely aligned public endorsements reinforce their relationship. Separate endorsement lists published on their websites are nearly identical, with major endorsements coming from United States Congresswoman Karen Bass, who represents Culver City, California State Senator Holly Mitchell, and current Culver City Councilmembers Megan Sahli-Wells and Thomas Small.
The close ties among Mr. Lee, Mr. Fisch, Mr. Small, and Ms. Sahli-Wells – both current councilmembers attended the election watch parties for Mr. Lee and Mr. Fisch – portends a strong majority on many issues before the council. The fifth councilmember, Goran Eriksson, endorsed the more business-minded candidates in this race, both of whom lost.
The years ahead will be a cornerstone for building the future of Culver City. Foremost, the city's General Plan will be completely overhauled beginning this year. As the city's website states, "A general plan is a city's blueprint, or constitution, for future development." That endows this particular council with tremendous responsibility.
Ultimately, they will be judged by their ability to respond to the needs and desires of the entire Culver City community.
"Elections are great, but democracy is about what happens between elections," said Mr. Lee in an impromptu victory speech.
"We fully intend to represent all of Culver City – the homeowners, the renters, the affluent people, the middle class people, the immigrants, the homeless … We're here to listen to everyone."