Suit alleges a pattern of poor training and culture of rights violations at CCPD
The same day Culver City granted its police department new surveillance powers, the City and 15 of its police officers were served a civil rights lawsuit alleging excessive force against a resident of Los Angeles County.
Terry Walton, a 33-year-old black man, claims Culver City Police Department (CCPD) officers James Gladden and Michael Kutylo pulled him over last year for having paper plates attached to his car. The lawsuit states the CCPD officers approached Mr. Walton's car with an "aggressive and hostile demeanor due to [his] size and race," demanding Walton exit the vehicle – which he did "passively and compliant[ly]" according to the suit.
Violence broke out when the officers attempted to cuff Mr. Walton. Upon failing to secure the handcuffs, the suit contends Mr. Gladden applied a chokehold to Mr. Walton and leveraged his entire body weight to bring the man down. Mr. Walton, who stands at 6'3" and 250 lbs, didn't fall over until he passed out. Mr. Gladden maintained his hold through the fall and continued to apply force while on the ground.
The suit goes on to allege Mr. Kutylo and a third officer who arrived late to the scene repeatedly punched Mr. Walton's neck and back while he was at times unconscious from Mr. Gladden's hold.
Eventually handcuffed, Mr. Walton was treated by paramedics and transported to the Southern California Hospital in Culver City. The lawsuit includes a brief ER report which gives a diagnosis of syncope (fainting) and difficulty speaking due to the police's "karate hold" on Mr. Walton. The report also notes pain in Mr. Walton's neck.
Released 7 hours later with a misdemeanor citation for obstruction of a police officer, the suit then claims Mr. Walton experienced continued medical symptoms that led to a second short ER visit the following day.
A criminal case for resisting arrest was pursued by Los Angeles County prosecutors and went to a jury trial. After the jury failed to reach a verdict, prosecutors dropped the charges, which opened the case to civil litigation.
"[The police] have more power than judges, attorneys, and prosecutors combined. They have the power to not just take liberty, but life, and therefore they must be properly trained." – Cameron Sehat of the Sehat Law Firm, who filed the case on Mr. Walton's behalf
In the state of California, it's legal to drive with dealer-provided paper plates for up to 90 days after purchasing a car – you can even drive with no plates at all, provided you carry a temporary operating permit. That raises a question as to why Mr. Walton was stopped, ordered to exit his vehicle, and detained.
With respect to the CCPD's tactics during detainment, police in California are generally prohibited from putting anyone in a chokehold, which concentrates force on the windpipe. LAPD has explicitly banned the practice since the 80's, after several citizen deaths at the hands of police. The San Jose Police Department does allow chokeholds that target the windpipe in situations the officer perceives as life-or-death. Chokeholds were the subject of national attention 2014, when an NYPD officer utilized a chokehold that killed Eric Garner but did not receive an indictment for his death.
While true chokeholds are uncommon, "carotid control" – which cuts off the major neck arteries supplying blood to the brain – is not, and regulation of this technique is handled department by department.
Culver City's police manual permits the use of carotid control, also called a carotid hold or restraint, only when someone is "violent or physically resisting" or when someone has "demonstrated intention to be violent and reasonably appears to have the potential to harm officers." There is no explicit prohibition on chokeholds, but the policy makes clear carotid holds are only to be performed by trained officers.
According to Cameron Sehat of the Sehat Law Firm, which represents Mr. Walton, Mr. Gladden had no business applying this type of restraint.
"There's evidence based on what transpired in the criminal case that [Officer Gladden] was likely not properly trained to perform a carotid hold," he told me in a phone interview. "I was taken aback by the seriousness and misconduct involved in this case."
Typically a chokehold causes severe discomfort but takes a relatively long time to cause a loss of consciousness. Carotid restraint, on the other hand, can render someone unconsciousness in seconds.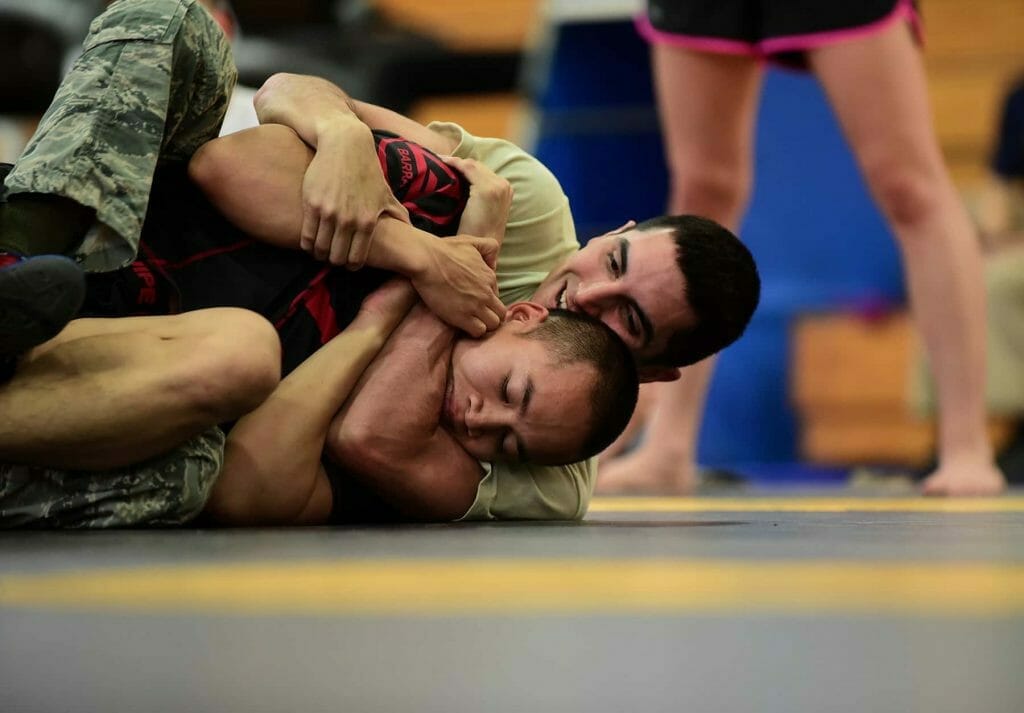 That's consistent with the lawsuit's description of Mr. Walton's collapse "approximately ten seconds" after Mr. Gladden restrained his neck. His difficulty speaking upon examination in the ER, however, could imply a windpipe injury from a poorly executed restraint.
The key difference is where the restrainer's forearm is applying force. If pressure is resting on the windpipe, as with the hold that killed Eric Garner, it is not carotid control. A forearm wrapped to the side of the neck is more consistent with carotid restraint.
Per Mr. Sehat, video evidence presented in the criminal case shows Mr. Walton convulsing as he is restrained by Mr. Gladden, a sign that he says proves Mr. Walton was involuntarily gasping for air.
A Feb 2016 City Manager report to the Culver City Council includes news that three of the four officers identified by name in the lawsuit – James Gladden, Michael Kulyto, and Mason McCormick – graduated the Los Angeles County Sheriff's police training program and joined the CCPD on Feb 19 2016. That's just under a year before the incident in question, which happened on Feb 4 2017.
Beyond alleging improper training and excessive force leading to physical, emotional, and financial burden, Mr. Walton's lawsuit asserts that a pervasive culture of "deliberate indifference to the rights of citizens" exists at the Culver City Police Department, headed by Chief Scott Bixby.
"Defendants City and Scott Bixby bear liability because their policies, practices, and/or customs were a cause of [Mr. Walton's] injuries," reads the document.
Along with Mr. Bixby and four officers at the scene, the lawsuit names 10 further unidentified CCPD officers as defendants in the case. Five of them appear to have also been on the scene of the incident last February, while a separate five seem to be part of the command structure of the CCPD.
When asked about some of the more extreme accusations made in the suit, such as a pattern of rewarding officers who display violent tendencies and planting or withholding evidence in certain cases, Mr. Sehat would only say, "There's evidence that may be pointing in that direction."
He believes it is imperative to hold police accountable for poor training given the power they wield over ordinary citizens.
"[The police] have more power than judges, attorneys, and prosecutors combined. They have the power to not just take liberty, but life, and therefore they must be properly trained."
Chief Bixby and the Culver City Police Department did not respond to inquiries for comment at the time of publication, but I will update if they ultimately respond.
"There are people on one side of [the drone issue] that feel as though the police can't be trusted, that they kill people, they're racist. Then there's the other side of people here who are very pleased." – Councilmember Jim Clarke following his decision to vote in favor of CCPD surveillance drones
Given this suit's pertinence to the Culver City Council's decision on March 13 to allow the CCPD to buy and operate surveillance drones, the filing's timing raises as to what the Council and the police department knew about the case before the meeting.
Surely the police department knew about the failed criminal proceedings against Mr. Walton, but it's less sure Council would have been informed. Though the civil suit was filed hours before the special meeting began, it's also probable word didn't get to the Council. Summons for the lawsuit were not issued until March 16.
One source within the City government, who wished to remain anonymous due to the legal action's sensitive nature, said the Council was not aware of the lawsuit before they went into the March 13 meeting.
Regardless, members of the Council who supported expanding the CCPD's spying power and even those who dissented were not shy about professing their support for and trust in the police department. That support could ring hollow in the wake of these allegations.
Councilmember Jim Clarke, in a March 13 interview following his deciding vote in favor of CCPD drones, described a clear division in how members of the public perceive Culver City police.
"There are people on one side of [the drone issue] that feel as though the police can't be trusted, that they kill people, they're racist. Then there's the other side of people here who are very pleased," he said.
This lawsuit may shed stronger light on why exactly that divide exists.
"Our police force, we're very proud of this, is more diverse than the community itself," Mr. Clarke went on to say.
Next up in the civil proceeding is the discovery phase, in which both sides will have the opportunity to collect evidence from the other.
Featured photo by Ted Eytan
* Note – Mr. Walton's height and weight is reported here based on the medical report filed with the lawsuit. There are conflicting accounts of his height. His lawyer and the Culver City Police Department claim he is 7'0″ and 350 pounds. *