First Community Meeting to Hear Public Input Met with Opposition
This past Monday, the City of Inglewood held a meeting to take public comment on a proposal to build the Los Angeles Clippers a basketball arena in Inglewood. The meeting, which took place at Inglewood City Hall, was the first official solicitation for input on the arena proposal. It featured the City Manager, Artie Fields, and various officials from the City Planning Commission.
Prior to the meeting, Uplift Inglewood, a local community group, organized an "action" in front of City Hall to voice their opposition to the arena. About 25 individuals, many wearing matching T-shirts and buttons, crowded before the entryway, holding signs and discussing the proposal in a circle.
"Today we want to make sure our voices are heard when it comes to this arena," Woodson Curry professed before the crowd. Mr. Curry founded Uplift Inglewood in early 2016 to focus on citywide affordable housing challenges. "It's not even about wanting an arena – we don't need it!"
The action ended with a group photo and a series of chants, amping up the crowd just before the meeting's commencement. Their energy faded quickly as they filed into the quiet, fluorescent-lit community room lined by glossy presentation boards with information on the arena proposal.
Alongside a few city officials, a cadre of suited lawyers and public relations consultants filled the space, prepared to answer questions and begin the process of selling the arena project to the public. Inglewood Mayor James Butts and the City Council were not in attendance.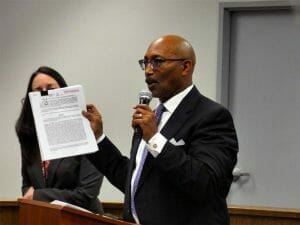 Royce Jones, a lawyer representing the City in negotiations over the arena, began the meeting with a "background note." Holding up a print copy of the City's Aug 15 amended Exclusive Negotiating Agreement (ENA) with a group representing the Clippers, he made a point of telling the public that negotiations are still open and that the ENA does not represent a finished plan.
"What you will hear tonight is a flow from this particular agreement," Jones said. "A lot of the terms of conditions have not been finalized, and this document does not constitute a project for the purposes of the California Environmental Quality Act."
His remarks seemed tailored to defend against an ongoing lawsuit, which alleges the City – in signing that ENA – has made commitments to the Clippers without public input, violating the act Mr. Jones cited, known also as CEQA.
Following Jones, Mindy Wilcox of the City Planning Division laid out the process for creating an Environmental Impact Report (EIR). Required by CEQA, this process involves analyzing the impacts of a proposed development – which can include everything from traffic effects to light pollution – and considering alternatives to that development based on public input.
When the brief orientation was complete, it was time for attendees to give their commentary. Contrary to what many in the Uplift Inglewood camp had hoped, input was taken in written form, with no verbal exchange of dialogue. Though some were disappointed, others believed this format was for the best.
"It's probably better than a bunch of people yelling at each other," said one woman upon finding out the format ahead of the meeting.
By about an hour into the gathering, most community members had finished their comment cards and left.
Chris Meany, a high-powered California real estate developer representing Murphy's Bowl – a Delaware-based LLC owned by Clippers owner Steve Ballmer – said he was pleased by the turnout.
"This is literally the first step in what will be a very intensive public process," he told me as the meeting was winding down. "What we're looking to see here is that there's a good, robust engagement by the community. I think there was."
Regarding Uplift Inglewood's pre-meeting action, Mr. Meany said he got the sense that Uplift's priorities are fundamentally different from the Clippers project.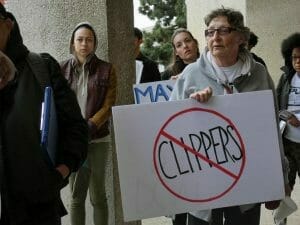 "When I chatted with [people from Uplift Inglewood] what I didn't get was so much any opposition to the Clippers arena. What I got is they would like to see more affordable housing and rent control in Inglewood and frankly, that's just a separate issue."
Since Mr. Meany represents Murphy's Bowl, I asked him about Inglewood Forward, which as I reported is an astroturfing project funded by the Ballmer-owned LLC. Mr. Meany admitted the group had paid for "various outreach exercises," but said it was in response to outside groups "funding all this community work."
This is the same claim repeatedly made by Inglewood Mayor James Butts in reference to Uplift Inglewood and to Inglewood Residents Against Takings and Evictions, a group suing the City based on CEQA. In fact, in press coverage of this meeting by ABC, Butts was quoted as saying he doesn't know of "any residents in the state of California that are upset" about the arena project. This implies of course that any community-based opposition is illegitimate.
Derek Steele, a 10-year resident of Inglewood and one of the major drivers behind Uplift Inglewood along with Mr. Curry and Inglewood school board member D'Artagnan Scorza, did not wish to comment on Mr. Meany's remarks.
"The overwhelming majority of people were here to talk about their disgust with what's going on," he said. "What I'm disappointed in is that we're just now getting to the point where the public has an opportunity to give their point of view on the project itself […] this should have happened way before this [meeting]."
The public can submit written comment until March 22, 2018.