Community group submits signatures to put rent stabilization charter amendment on Nov 2018 ballot
You wouldn't think lugging storage boxes into a municipal office, each one stuffed with reams of meticulously organized papers, could be described as jubilant. But that was the atmosphere as members of Uplift Inglewood handed over roughly 2000 petition forms inked with more than 14,000 resident signatures to the Inglewood City Clerk Tuesday morning.
A community group focused on affordable housing in the Los Angeles-adjacent city, Uplift Inglewood began this campaign in late Oct 2017, when they submitted an amendment to the city's charter that would:
Reset rents to Oct 2017 prices;
Tie maximum yearly rent increases to the Consumer Price Index with a cap at 5%
Establish a "just cause" eviction framework, which drastically limits how and why tenants can be evicted.
As a caveat, the first three measures only apply to apartment buildings with four or more units, creatively known as "fourplexes." The charter amendment also calls for the formation of an elected rental board to oversee renters issues in the city.
For the proposal to reach the ballot this November, Uplift needed to collect signatures from at least 10% of Inglewood's voting population, or roughly 9000 names.
Canvassing began in earnest last December, a process that involved speaking to hundreds of Inglewood residents each week to pitch the initiative. But with a core "field team" of fewer than ten, getting pen to paper 14,000 times was no easy task.
Keeping staff and volunteers resilient in the face of consistent rejection proved difficult said field team leader Dominique Brown.
"Our biggest challenge was making sure everyone helping to get the petitions was motivated and stayed motivated," Ms. Brown told me in an interview, estimating her signature gatherers were turned down four times for every one success.
"We all had to have each other's back."
Arguably the team's most consistent and highest energy motivator was Kaliyah, Ms. Brown's 2-year-old daughter. After the recent passing of 3 close family members, Ms. Brown said she relied on her daughter to help her continue.
"She brings joy to everybody. And that's what kept me going too, after the deaths."
Maintaining morale among the field team, which trained and managed dozens of volunteer canvassers from across LA County, wasn't the only obstacle. According to Adriana Swain, Uplift's communications lead, engaging residents to volunteer gathering signatures presented a unique challenge due in part to the very burden Uplift is trying to mitigate.
"The main problem is the people that we have the most support with are the ones least able to lend their time," Ms. Swain in an interview on Tuesday. "It's really hard to get people out to do the legwork that this requires when they're spending all their time trying to pay their rent."
To those who tried to delegitimize us, to them I say: We stand tall. We are still here. – D'Artagnan Scorza, Uplift Inglewood organizer
But while celebration was in the air today, so too lurked another feeling: apprehension. That undercurrent flowed from several different sources.
Turning over months of hard work to a government whose leader is brashly critical of the organization gave some field team members, including Ms. Brown, a sense of unease.
"The number feels so good but turning in the petitions is like I'm losing a part of me," she said. "All this work and now we're handing it over to someone else to verify … It's nervous right now."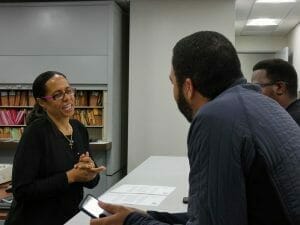 Signatures are checked against the most recent voter registration rolls to ensure all signers are registered in the city. Small errors – say a mismatch between a signer's petition address and the voter registration address – render a signature invalid, so overshooting the number required by law is always wise. But an added mistrust of the City's impartiality played a role in establishing campaign organizers' goal of 14,000 signatures, about 50% more than technically necessary.
Their concerns were muted after Uplift found out Los Angeles County would handle the all-important crosscheck of the signatures against voter rolls, not the City of Inglewood. According to the City Clerk's office, the petitions have already been transferred to the County.
Another temper on members' excitement for the end of the signature process was the recognition of an even greater challenge ahead for initiative proponents: getting it to pass. It's one thing to show up at someone's door and solicit their signature. It's an entirely different proposition to convince them to reach the voting booth come November.
"The real work, the campaign work, the getting out there and talking to folk and talking to our neighbors to get them to actually vote for this thing begins [today]," said D'Artagnan Scorza, an Inglewood Unified School Board member and one of the primary movers behind Uplift Inglewood, to group members outside City Hall.
"Today is day one of our campaign … We have an opportunity to help reshape the way this city is moving."
"How do we fix it long term? [We] start rallying our state government to say … 'we need more housing.'" – Odest Riley, CEO and founder of WLM Financial, an Inglewood-based real estate company
Regardless how the vote turns out, some in Inglewood aren't sure rent control is the best way to uplift the community – and they're concerned this measure may come with unintended consequences.
Odest Riley is a longtime Inglewood resident and owns a mortgage company in the city called WLM Financial. He believes the prospect of this charter amendment could cause widespread evictions in the run-up to November.
"If I'm a landlord, what am I doing today?" Mr. Riley asked in a phone interview, before giving his answer.
"I'm going to already have my units vacated because it will be cheaper for me to have no income for a few months than to fall [under rent control] … Before you get to November, the community will be more gentrified than you ever thought it could be."
If landlords, foreseeing a victory for the amendment, evict tenants now – which they can do on 60-day notice in the absence of the charter amendment's provisions – they won't be required to reset rents to what they were last October. Their new tenants may be under rent control if the amendment passes, but at least the price can be set at the property owner's choosing.
Though with rents in Inglewood rising faster than LA County overall, widespread evictions might happen even if the ballot measure passes.
Mr. Riley, who also serves as commissioner of a housing advisory board to the Inglewood City Council, said that while he cares deeply about the plight of struggling Inglewood renters – some of whom include his own friends and family – he doesn't believe rent control represents a long-term solution.
"The three most expensive places in Southern California are rent controlled," he said, referring to Santa Monica, Beverly Hills, and Venice. "Show me where [rent control] has worked … I haven't seen one place where it has worked."
Instead, he suggested putting community weight behind a push for widespread construction of more housing across the state.
"How do we fix it long term? [We] start rallying our state government to say … 'we need more housing.'"
No matter how the next few months play out, members of Uplift Inglewood feel they've begun laying groundwork for something larger than a single amendment to the city's charter.
"Today represents the reality of a movement that is already here," said field team member Michael Wilson after the petitions had been turned in.
"The people are tired of politics as usual, and we're not complacent in our being tired. We're not stagnant or voiceless … Today is a beautiful example of what happens when the people come together with the right intent, with the heart to fight, and the will to stay truthful, honest, and progressively moving forward."
Los Angeles County has 30 days to complete the signature verification process.