Public Commenters Voice Concern or Opposition but Little Support for Arena Proposal
This March, the City of Inglewood kicked off an 18-month environmental review of the proposal to build the Los Angeles Clippers a home basketball arena in Inglewood. The process began with a March 12 public "scoping meeting" to solicit community input – the first opportunity for Inglewood residents to give comment on what factors should be examined in the 18-month review.
Eschewing an oral public dialogue at the meeting, the City's Planning Commission opted to collect comment in written form. The submission period was open for 10 days, ending on March 22. Counting  comments left at the meeting and ones sent separately to the Planning Commission, 50 Inglewood and LA County residents shared 63 comment cards on the proposed project.
I obtained these comment cards via a public records request and categorized them into three groups: comments in favor of the arena, those opposed, and comments that raised concerns without a for or against judgment.
A majority of the submitted comments – 37 in total – fell into the last group. Concerned commenters voiced worries about the potential arena's impact on traffic, air pollution, noise, homelessness, local small businesses, and affordable housing.
One property owner, who lives on the edge of the proposed arena site, said construction that is already underway to build the Los Angeles Rams football stadium has affected his family. He wanted to know the side effects of another gargantuan construction project.
"The amount of dust from trucks is awful," wrote Miguel V. "The fine dust, especially in the summer, gets really bad and we have to have windows and doors closed. The allergies in the family have increased. Is this going to continue with the new arena?"
Many residents expressed apprehension about the arena's consequence on traffic, particularly with three large event venues, thousands of new housing units, dozens of new businesses, a Costco warehouse, and a high school all located within a few square miles.
"When events overlap will that be a traffic nightmare?" asked Ralph D.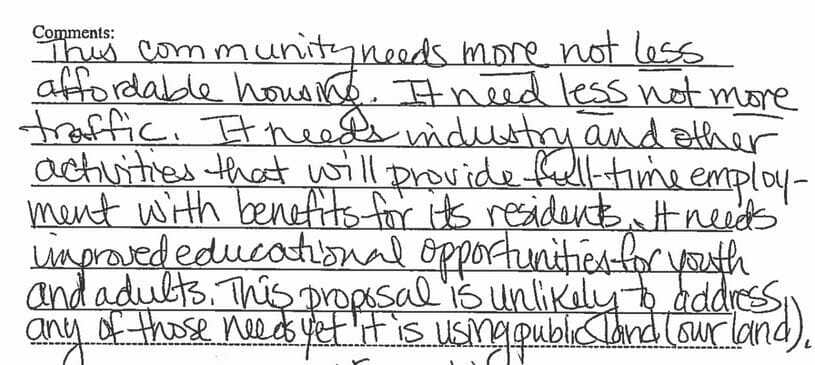 Implored resident Jan W: "You need to study … a WORST CASE traffic scenario."
Others articulated concerns about how the stadiums would affect housing costs, which have risen dramatically in the historically low income city over the past half decade and are expected to continue to rise as billions of dollars of development money pours into the city.
"Over the past two years, my rent has gone up $375!" wrote Alexandra H, who lives a block from the Rams development. "This massive increase is because of the new [Rams] stadium, so you can imagine my consternation upon learning yet another arena is in the works. For me, a renter in Inglewood, these projects mean detriment and displacement."
Several commenters questioned the jobs the arena is proposed to create, questioning whether the promised job benefit would be impactful and long-lasting.
"I am concerned that the jobs created will be low paying, temporary positions with no benefits or career opportunities," wrote Opertoritse A.
Asked Khalil E: "What is the local hire plan for the project? What is the plan for disadvantaged workers, training, retention, and management and supervision positions?"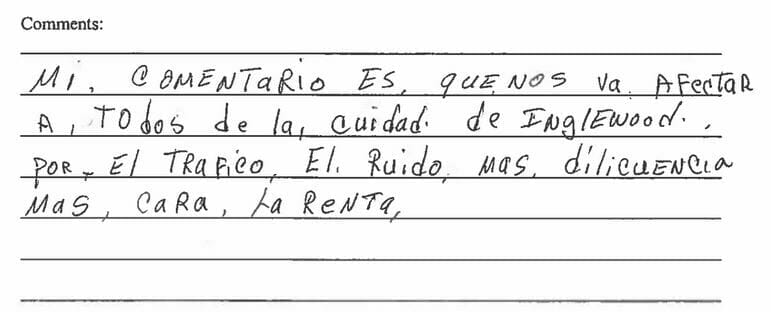 The next largest group of commenters – 21 total – conveyed direct opposition to the arena proposal.
"No to the construction project, no to the traffic, no to the pollution, no more cars in the streets," wrote Hermenegildo V in Spanish.
Monic D wrote in an email to the City: "We love our neighborhood, along with hundreds of other residents that will be effected by this UNTHOUGHTFUL proposed Arena. I beg of you to please STOP thinking about money and start thinking about the people and community" (sic).
"This plan does not benefit the people or the environment and it's obvious that this will only benefit [those] who make money off this proposed 'plan.'" wrote Jennifer D, whose listed address borders the recommended project site.
While 58 cards conveyed opposition or concern, 5 comment cards expressed support for the project.
One resident, Virginia L, said the vacant public lots earmarked for the project have "been an eyesore for far too long."
Another resident, Brett R, believed the arena would have a positive impact on the community. "This project will aid in revitalization, increased employment opportunities, and local entertainment options," wrote Brett, who identified as a "relatively new" Inglewood resident. "As a lifelong Lakers fan, I have to say, this time, Let's Go Clippers, come to Inglewood!"
"Everything looks perfect! Please build the Clippers arena!" said Cassandra G.
It's unclear whether range of opinion expressed in these cards gives an accurate representation of the Inglewood community's true temperature on this issue. For every one comment in support, ten voiced concern or outright opposition.
Selection bias is certainly an issue, since those concerned are probably more likely to take the time to give comment than those in support. But if this small sample is reflective or approximately reflective of what Inglewood residents believe, it begs the question as to whether the City Council and Mayor James Butts are faithfully representing their constituents in pushing for this arena.
"I have lived in Inglewood for 31 years," wrote resident George B. "Never have a I seen so many homeless people walking our streets … Increased efforts of gentrification have led to soaring rental prices."
"What is our City Leaders answer to our problems? Bring yet another Arena to Inglewood with its demand on water, infrastructure, increased parking and traffic congestion," he went on to write.
"This is an answer that is completely indifferent to the real problems facing our city."