More than half of the 14,000+ petition signatures submitted for a rent control ballot initiative were invalidated by Los Angeles County
Community organizers in Inglewood are facing a major setback in their push to put rent control on the city's ballot this year.
On Tuesday, Uplift Inglewood – the group that introduced the initiative and campaigned for months to collect signatures – received word from the City of Inglewood that their petition did not have enough valid signatures to qualify for a vote in November.
The rent control initiative was part of a multi-pronged approach to protect renters across Inglewood, which has seen massive rent increases in recent years due in part to large-scale development projects like the Rams NFL stadium and a proposed NBA arena.
Uplift heard the petition news the same day they unveiled another major component of their mission: a lawsuit filed against the City of Inglewood to stop negotiations with the Los Angeles Clippers, with whom the City is in talks to build a basketball arena on city-owned land.
The suit's announcement was a celebratory affair for members of the coalition, which was founded in 2015 to stem the growing tide of rising rents. But missing the signature mark is nothing short of a devastating blow when considering the widespread impact it might have had if passed.
"We don't have time for [disappointment] … There's a lot of work to do, and a lot of lives hang in the balance. So we continue to strategize, we continue to mobilize." – Derek Steele, ballot petition sponsor and Uplift Inglewood organizer
An amendment to the City's charter was the prize at stake were the ballot initiative to become law. Renters in buildings with four or more units would have seen their rents immediately reset to Oct 2017 prices, with increases of no more than 5% per year going forward.
Ratifying the amendment would have had a direct and massive impact within Inglewood and would have signaled substantial community support for Uplift's political agenda.
Now, the organization must regroup and identify the best ways to move forward. Despite the obstacle, Uplift says they aren't quitting.
"[This] doesn't mean the work stops," said Derek Steele, an Uplift Inglewood leader whose name appears on the petition. "We are going to continue … making sure people aren't getting uprooted."
The clear first step is to challenge the verification itself, performed by the Los Angeles County Registrar. Uplift has 20 days from Tuesday to do so.
Signatures can be invalidated for a host of reasons, like an incorrectly filled out petition form or a signature address that doesn't match the signer's voter registration address. But Uplift believes the extraordinary proportion of invalid signatures – about 7500 out of 14,000 submitted – raises major questions about the County's process.
"We're going to find out what they're looking at, what [their] breakdown actually looks like," said Mr. Steele. "We're not going to go down without using all the resources that we can."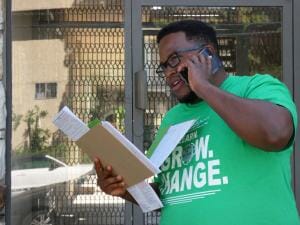 If the challenge doesn't work out in Uplift's favor, the next steps are less obvious. Mr. Steele believes that using the attention garnered by Tuesday's lawsuit announcement – which received national coverage from the likes of ESPN – may allow the organization to exert power over Inglewood's leadership.
"What [the attention] has caused is more leverage in our direction that we can use to make the cases for our community," said Mr. Steele.
Asked if the disappointment of this setback has affected the group's work, Mr. Steele was resolute.
"We don't have time for that … There's a lot of work to do, and a lot of lives hang in the balance. So we continue to strategize, we continue to mobilize."
Instead of being consumed by frustration, Mr. Steele said he is committed to remaining optimistic.
"Once we get this amendment passed, and I do believe we will, it will make for a fantastic story," he said. "If it does fail, at least we know we did everything we could."