A conference of consultants and hand-picked residents flaunt excitement for Clippers-focused CEQA exemption bill
Security was tight at the Los Angeles Clippers' press conference, held smack in the middle of a vacant Inglewood city parcel that's slated to become the team's new basketball arena by 2024. The Tuesday presser was intended to "announce widespread support" for a newly introduced assembly bill, AB 987.
If passed, AB 987 would exempt the proposed arena from almost all legal challenges based on California's foremost environmental law, the California Environmental Quality Act (CEQA).
Attendance at the event, made public only in the agenda of a special city council meeting held the day prior, was restricted to a predetermined list of media outlets and Inglewood residents.
Even the event's guests of honor were met with scrutiny.
"Name?" an event staffer asked the driver of a sleek black Escalade inching forward after sitting in traffic caused by the security measures.
"Ballmer," the suited chauffeur replied as Steve Ballmer, Clippers owner and tech tycoon of Microsoft money, giggled from the passenger's seat.
Mr. Ballmer was one of 10 people scheduled to speak at the event, which also featured trade union leaders, California lawmakers, Clippers VIPs, and Inglewood Mayor James Butts, according to a press packet I obtained. (WarrenSz.me was not invited to join the press corps.)
Alongside various city commissioners and hired consultants, perhaps 30 Inglewood residents filled out the crowd – though many of them were recognizable from the Clippers-funded astroturfing site, Inglewood Forward. It's unclear how those individuals received word of the conference, which was not advertised via any public channel for the City of Inglewood, Inglewood Forward, or the Clippers.
When I tried to enter, identifying as a member of the public, event staff asked if I had been "invited."
Also barred entry were members of Uplift Inglewood, a community group opposed to the arena project. They discovered the upcoming conference by combing through city council agendas.
The day before the event, the Inglewood city council held a special meeting to issue temporary permits to "Murphy's Bowl LLC," allowing them to use city-owned lots at 102nd Street and Prairie Avenue. Murphy's Bowl, registered in Delaware and solely owned by Steve Ballmer, is the entity negotiating with the city over the arena.
As the event got underway, about 15 members of Uplift Inglewood stood on the opposite side of 102nd with a smattering of signs and a microphone, blasting messages of discontent toward the white canopy covering conference attendees.
"Whose streets? Our streets!" they chanted along with, "Homes before arenas!"
Meanwhile, government officials touted the positive effects they claim the bill will bring the Inglewood community.
"This bill is a jobs package," said newly-elected assembly member Sydney Kamlager-Dove, who introduced the proposal – her first since being elected in April. She added: "I'm excited to stand with Steve Ballmer … [and] I'm counting on Mayor Butts and the city council to use their muscle" to get the arena constructed.
"What, are they going to hire us to take tickets?" – Meka Williams, Inglewood resident
After Ms. Kamlager-Dove, it was time to hear from the Clippers head.
"I want to build a house in Inglewood," exclaimed Mr. Ballmer in reference to the arena, receiving a robust cheer from the friendly crowd. He went on to say he wanted the development to be a "great community site," though he acknowledged the developers were "still thinking that through."
State Senator Steve Bradford repeated lines he used in support of his failed legislative attempt at swatting away environmental challenges to the arena: Senate Bill 789, a nearly identical progenitor to AB 987 that stalled in committee last September. Mr. Bradford claimed that similar bills for the Sacramento Kings and Golden State Warriors "sailed" through the state legislature, while his bill failed because the area is "led by black and brown elected officials."
"Let's make Inglewood great again," he said. "Today is not about a basketball arena … We need to stand up and be excited."
From the sidelines, Uplift Inglewood called out Mr. Bradford for an op-ed he wrote after SB 789 fizzled, in which he blamed Uplift for its defeat and asserted they were a "shadow group" and "dark-money political action committee."
"We're not a 'shadow group,' we're out in the sun!" cried Uplift organizer Derek Steele.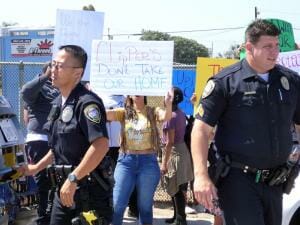 At the empty lot's entrance stood several Inglewood police officers, one of their SUVs parked strategically to block the protesters' line of sight into the event.
Though there was no direct interaction between police and protester, the show of force was meaningful. Mr. Steele said the group staged their demonstration across the street because they didn't want to risk confrontation.
The event seemed to serve as the launch of an arena-focused messaging campaign aimed at bolstering community support.
That message is pretty simple: jobs, jobs, jobs.
But while job promises flow freely from elected officials, the reality of such an assurance is more complicated.
First off, Inglewood's unemployment rate is below 5%, which is nearing full employment. It's not obvious that jobs are what's needed, especially when rents in the city are rising faster than LA County overall. Even the employed have difficulty managing rent increases in the hundreds of dollars month over month.
Then there's the question of what kind of jobs the arena would bring – and how many. The press packet distributed to invitees, which was lifted by a community member who slipped into the event unnoticed, claims "the arena project will create an estimated 10,000 construction jobs" and "1000 permanent jobs … for ongoing arena operations."
It goes on to say the Exclusive Negotiating Agreement (ENA) between the City and Murphy's Bowl has a "goal [to] fill approximately 30% of the available construction jobs and 35% of the available arena operation jobs with Inglewood residents or residents of nearby cities."
The math isn't hard on this one: meeting their goal means 3000 temporary construction jobs and 350 permanent jobs for Inglewood – or nearby cities, presumably including Los Angeles.
Critics aren't convinced these promises will mean much for the local community.
"This arena's not going to create [office jobs] for people," said Meka Williams, whose apartment building borders the proposed site. "What, are they going to hire us to take tickets?"
"Are these going to be living wage jobs?" asked another. "More than 20 hours a week?"
It's reasonable to question whether working one of these jobs would even support a person living in Inglewood. The sports-stadium-as-community-revitalization pitch is nothing new, and the economics of it are debated at best and dubious at worst. A community certainly cannot be "revitalized" if a lion's share of its residents are forced to leave due to cost of living increases ushered in by that revitalization.
As she introduced AB 987 on Tuesday, Ms. Kamlager-Dove claimed the bill was "the result of community dialogue." That statement is at odds with the bill's surprise announcement, the fact that Ms. Kalmager-Dove does not even represent the community for which the bill is intended, and the decision to hold a private press conference, thrown by the Clippers, introducing it to the public.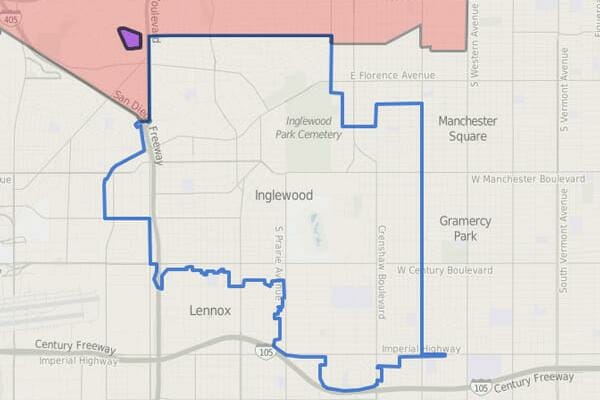 For residents on the ground like Sara Santos, such a declaration is at odds with reality.
"It's really distressful that they're not even taking us into consideration. We live here. I actually live in that building right there," she said, pointing across the proposed arena site to a low-slung, grayish apartment building. "My rent has gone up $300 in one year … This dinky building is all I can afford."
Between the roar of commercial planes overhead and the chants of her fellow protesters, Ms. Santos had to raise her voice to describe the problems she sees around her – none of which will be solved with a few hundred jobs.
"The schools are going to go on strike because the teachers … don't get paid enough. The school my daughter goes to has no afterschool programs," said Ms. Santos. "Where are all our resources? What are we paying taxes for?"
"It's just going for the profit of billionaires in our own backyard."
AB 987 is set to be debated in the California Senate's Environmental Quality Committee on June 20.